Attendance
At Fernvale, we strive to provide an excellent education for all children. Our school is a safe environment in which we provide the knowledge, experiences and confidence the children need to excel at secondary school, so that they can make the choices, now and in the future, to have a happy, fulfilling life.

Excellent attendance is vital to ensure the children have the best possible education, ultimately, enabling them to have greater choice later in life. Therefore, we take attendance very seriously and do all we can to support excellent attendance from all our children.
Attendance Does Matter - Every Day Counts
We expect all children at Fernvale to come to school every day, apart from in cases of contagious illness, serious medical conditions or due to any current Covid restrictions.

What do I do if my child can`t come to school?
You must contact the school before 8.45am, by phoning the absence line on 0116 2416722, Option 1, through the School Comms - the Gateway App or by emailing office@fernvale.leics.sch.uk. Please state your child's name, class and the reason for absence.
Please note that you will need to contact us every morning of your child`s illness.

If a child is not in school and we do not know the reason why, the school is required to contact parents/carers or other known contacts to make sure the child is safe and establish the reason for absence.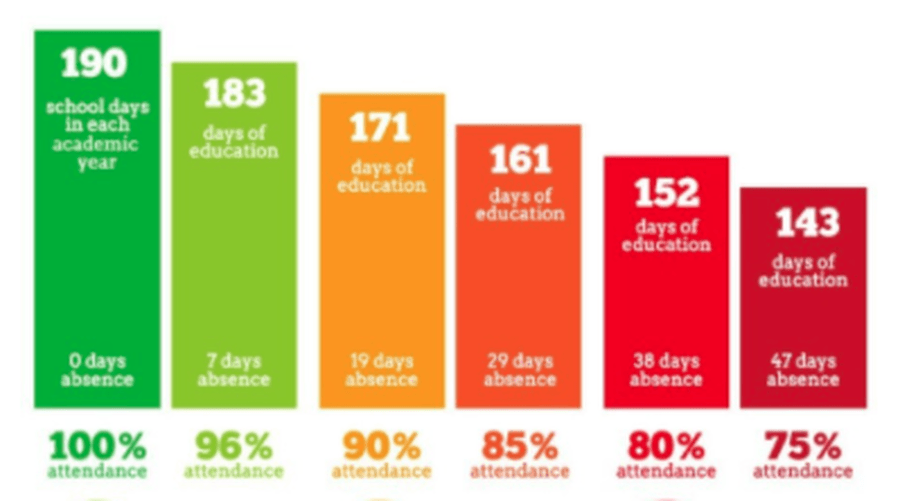 Persistent Absenteeism
Parents should be aware that attendance data is closely monitored by the office and senior leadership team at the school. Attendance data has to be submitted for scrutiny by the local authority and Ofsted. A series of official steps, therefore, will be followed relating to any child whose attendance is a cause for concern.
If a child's attendance falls below 96% or is at risk of falling below, we are required to monitor this and send a letter home. If there is a particular circumstance, that the school may not be aware of, which is having an influence on your
child's ability to attend school regularly, please do not hesitate to contact us.

Children with attendance below 90% are classed as 'Persistently Absent' and if this occurs,
you will be asked to attend a meeting with a member of the senior leadership team.
Being On Time
At Fernvale, we have a 'soft start' to the day, meaning we have ten minutes in which each gate is open and the children can come into school. At the end of the ten minutes, the gates are closed and registration begins.

The timings of this are:
Gates open at 8:40am
Class doors open 8:45-9:00am

This means that classroom doors close and registration begins at 9:00am.

Children arriving after 9:00am must enter school through the main reception doors; you will be required to complete a register form and the office team will register your child as late.
Lateness is monitored on a regular basis and parents will be contacted when there is cause for concern.
Children arriving more than 30 minutes late are classed as `absent` for that whole session – this will affect their overall attendance score.
What do I do if I wish to request absence?
You must complete an absence request form.